Demands for bigger and bigger flexibility of machines, minimal space demands and shorter tactic periods conditioned the development of the new machine, type FPZ.

In strong competition with processing centers the concept of the machine, offers the integration of auxiliary time into the technological time of processing.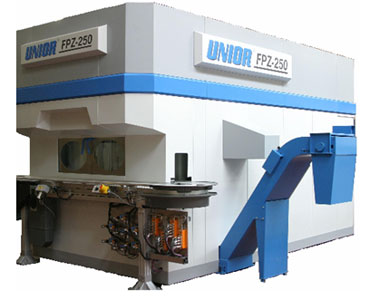 Reliable performance and technical solutions offer a lot of advantages:
Time between two processing procedures is shorter than 1 second (tp < 1 sec)
Fast removal of chips while dry processing (hanging binding device) 
Modular system of upgrading the processing units
Flexibility of the machine
»pick-up« binding of workpiece
Possible processing from five different sides
Possible simultaneous four-axe processing
Spindle with binding device for the workpiece vertically
Compact construction as a whole
Simple for connection into a system

Our own development and manufacture of flexible processing cell FPZ-250 ensures:
Tactic period of processing is in average 30 % shorter that at the processing centers
Fewer operations of the machines are needed
when changing the workpieces whit a change of bliding device, cutting tools or NC program
At small-scale production it is possible to save on one ore more machines with the integration of FPZ machine
Operation of the machine
On vertically placed drilling device a hydraulic binding device is attached. On the basis of the so called "pick-up" procedure" of binding of the workpiece, the workpieces are transferred from the transport strap into the work area, where they are placed laterally and from the bottom side work spindles are placed, attached to the housing of the machine. 
With movement of the fixed workpiece from tool to tool, the successive technological operations written in the NC program are being implemented. At the same time in the other two assemblies of spindles an exchange of tools is being implemented. With this we transform the time of changing the tools into the technological time.